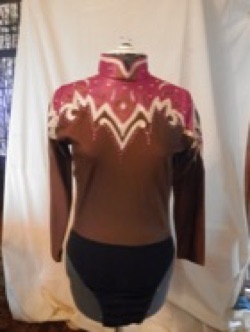 "Brown & Fushia"
This is a slightly used complete outfit. The top has fusha pink lambskin trimed with copper and cream leather and tons of crystals. It zips up the back and has a snap bottom to keep it firmly tucked in. It comes with matching pants, belt, and pig suede chaps.
The top has a 34" bust x 32" waist with a 21 1/2 sleeve length.
The pants have a 27" waist and 31" inseam.
The belt is 35" end to end.
The chaps have a 27" - 30 1/2" waist, 23" thigh, and 31" inseam.
All for $395